Trans Day of Remembrance 2020
Content Warning: Discussion of transphobia, murder and violence. For the cisgender allies, although upsetting I urge you to read this to understand the reality of being transgender in 2020. For the trans folk out there I urge you to exercise self-compassion in consuming blogs like this and only continue if safe to do so.
350 trans and gender-diverse people have been reported murdered in the last year. 350 human beings with lives, stories, loves, hopes, fears and dreams.
In a year which has seen growing instances of vocal transphobia from influential people, and trans rights treated as a topic for debate in the media, reading the statistics for the Trans Day of Remembrance 2020 brings a cold and sobering reality to the consequences of unchecked transphobia in the media, in our communities and in our democratic systems.
Trans Day of Remembrance (TDoR) is marked on the 20th November every year. The Transrespect versus Transphobia Worldwide (TvT) research project compiles the statistics of trans and gender-diverse murder rates each year so that we may mourn and commemorate those whose lives were taken, and raise awareness of the serious issue of violence and murder against the trans community.
According to the TDoR 2020 report, 350 lives were taken this year, an increase of 6% compared to 2019 with most of the murders occurring in Brazil (152), Mexico (57) and the United States (28). The average age of those murdered is 31 but the youngest was just 15 years old. These figures are not complete, there will always be cases that are not reported or which are subjected to misgendering by families, authorities and the media so the full scale of this issue cannot possibly be known.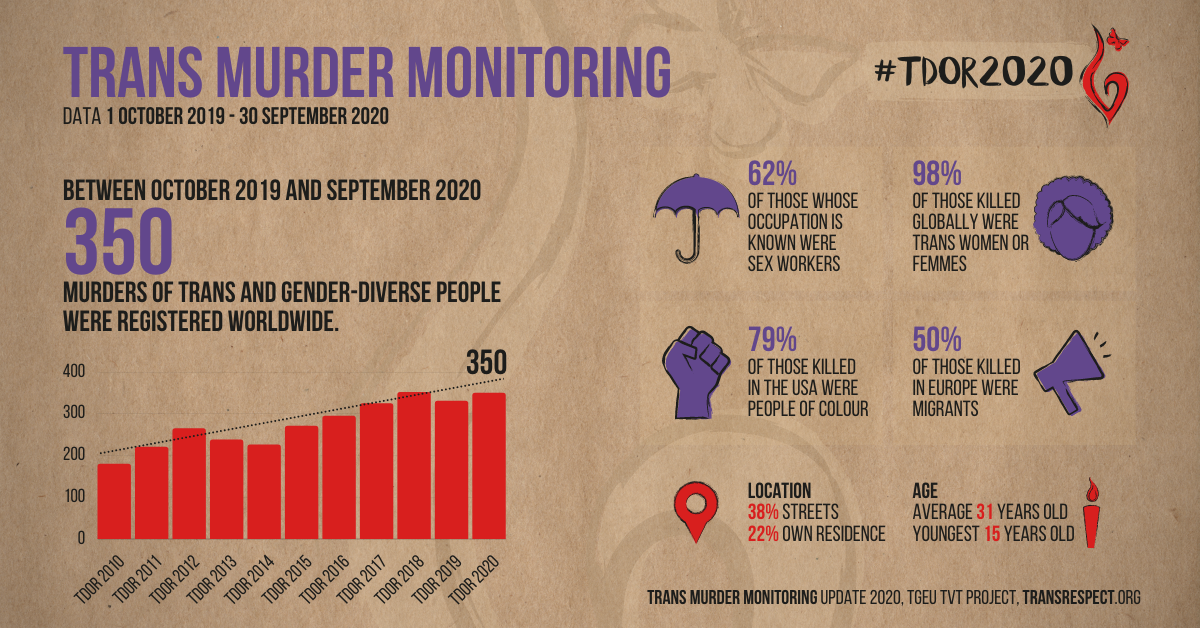 These statistics are sickening but they are also our reality, we cannot turn away and ignore this problem. Although I am trans, I write from a position of privilege as a white, transmisogny exempt person, with the intention of raising awareness of the violence that impacts my community. In order to even begin to tackle issues of transphobia and violence against trans people, it is essential that we acknowledge how disproportionately this violence impacts on trans women and trans femmes, people of colour, sex workers and migrant communities.
According to the research by TvT (2020):
– 98% of those murdered within the past year were trans women or trans feminine people.
– 62% of murdered trans people whose occupation is known were sex workers.
– People of colour make up 79% of the 28 trans people murdered in the USA.
– Of the 11 trans people murdered in Europe who have been documented, 50% of these were migrants.
These are not just statistics, these are human lives that our society has failed to protect. This loss of life reflects the consequences of transphobia, particularly transmisogny faced by trans women and trans femmes. It reflects growing racism and police brutality, with data indicating Black and migrant trans women of colour are most at risk. It also highlights the impact that the Covid-19 pandemic has had on groups which are often left behind by legislation, social protection and the economy.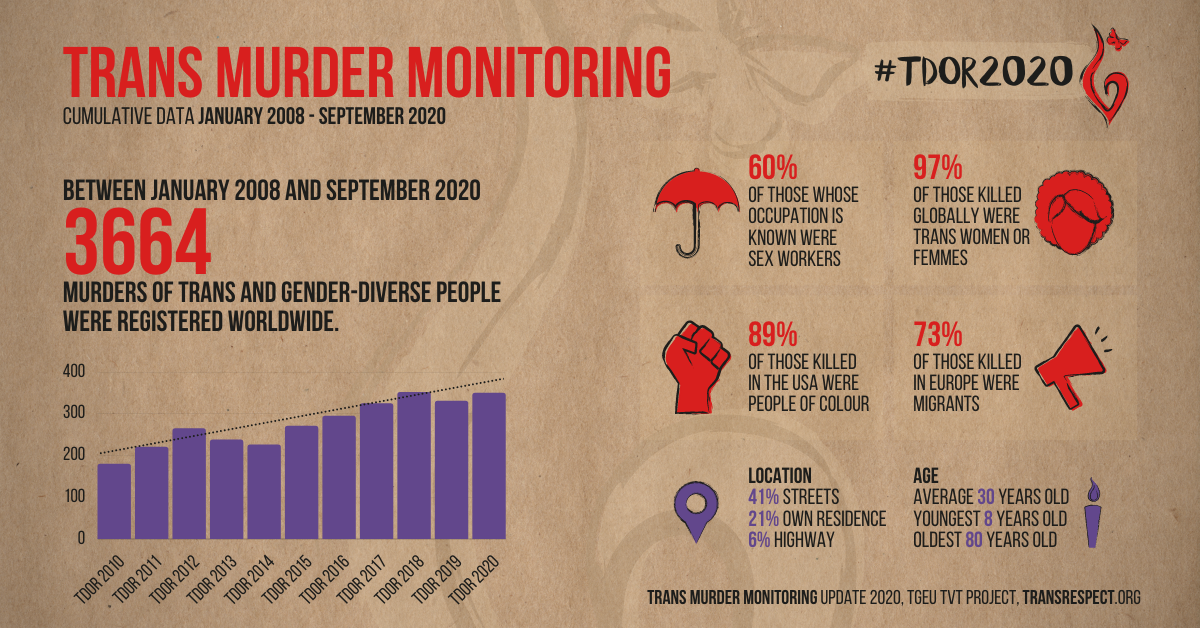 On the 20th November we will pause for Trans Day of Remembrance and hold space for those who are no longer with us. But do not stay paused, especially if you are cis, white and otherwise privileged. Each year we cannot have an increasing list of lives lost, we need to do more to prevent violence and murder against trans people. Our community needs allies to raise trans voices, especially the voices of those impacted the most by this violence. We need to stop offering platforms to those who spread harm and transmisogny. We need to get out and fight for the cause of Black Lives Matter; in doing so we support Black trans women and trans femmes. We need to push to legalise sex work, so that we may better protect trans sex workers. We need to rally to build safe communities in opposition to hostile environments so that we can better support trans migrants.
Every step we take towards this better world should be done in honour of those we have lost and in the spirit of fighting for and uplifting the communities who need us to all do better.
Resources for support and further information: